Gourmet Breakfast Sandwiches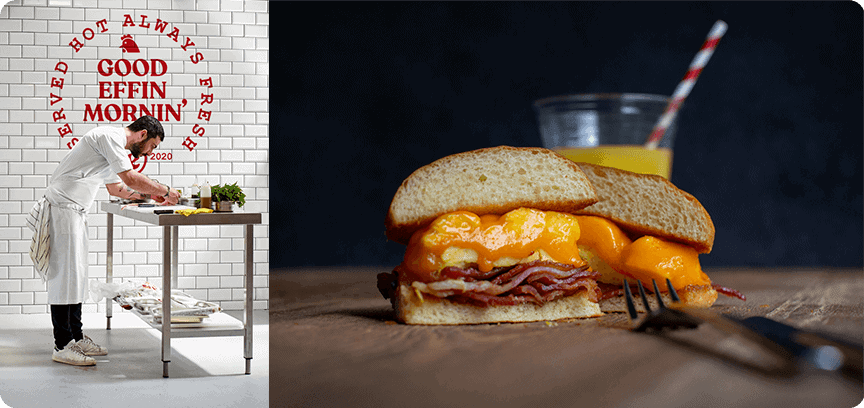 Effin Egg is a fast-casual breakfast sandwich concept. Inspired by a true love of eggs, our menu boasts classic comfort fare with a twist, using only the freshest and finest ingredients. Not just a morning staple, Effin Egg's signature egg sammies hit the spot all day long. This is not your grand pa's breakfast place.

Fresh Orange Juice
Mexican Coke
Bottled Water
Effin Coffee
Effin Latte
Effin Ice Coffee
Sweet & Unsweet Tea
*No free refills
The Effin 30A Cookie
Our signature cookie with chocolate chips, coconut, and macadamia nuts.
Our Locations
Inlet Beach, FL

Decatur, GA
201 W Ponce de Leon Decatur GA 30030
(Coming soon!)
Inlet Beach, FL
13123 E Emerald Coast Pkwy. STE C
Inlet Beach, FL 32461

Tuesday - Saturday: 7:30am - 1:30pm
Sunday: 8:00am - 1:00pm
Monday: Closed
Our commitment to using the highest quality ingredients—not to mention cooking everything to order—results in a higher price for our amazing egg sammies. We take a lot of care in making them, and we hope you love them as much as we do!
We currently do not offer any gluten-free bread or bagels. Our sandwiches come on a brioche bun or house-made bagel, and we do offer a no-bread/sub salad option on all our dishes (additionally, most of our sandwiches can be made without meat).
We offer catering for our house-made bagels but not our breakfast sammies, which are cooked to order onsite only. Please contact our shop for more details.
Because we are not McDonald's…we do not pre-cook sandwiches or use microwaves. Everything is made fresh to order.
We're always looking to expand the Effin Egg family. If you're interested in receiving more information, email us [email protected]
Yes, please visit our page here.